1. Bon Bón - Coqui Reca - 3:38
2. Tu No Sabe Inglé, you don't know English - Coqui Reca/Nicholas Guillen - 3:33
3. Burbujas De Amor, bubbles of love - Coqui Reca/Ney Portilho - 4:18
4. Picaflor, humming-bird - Coqui Reca - 4:02
5. No Tiren Más, don't shoot no more - Coqui Reca - 4:33
6. El Burrito, the donkey - Coqui Reca/Julio Martins - 5:00
7. Busco, searching - Coqui Reca/Pablo Miguez - 4:16
8. La Ley De Gravedad, gravity force - Coqui Reca - 3:10
9. Un Ramo De Flores, a bunch of flowers - Coqui Reca/Mark Brazil - 3:39
10. Solo - Coqui Reca - 2:37

Modern Latin Music - no Room in the Stew-pot

The group "El Calefón" (founded in 1983 by musicians from Argentina and Brazil) does not match the cliches commonly used to describe Latin-American or Afro-Cuban music. The group just does not fit into the same stew-pot in which the common, superficial concepts of so-called Latin music are stirred. "El Calefón's" music is too finely differentiated, too subtile and too full of variation.

In "Coqui Reca's" music you can hear everything within the range of the various cultures involved and their different means of expression - South American folk music, Salsa, Samba, Rumba, Reggae, Funk, pure jazz, to name but a few. But it should not be thought that these musicians just reach into any drawer or other at random, pull out any old stop to produce a sort of potpourri. On the contrary, their aim is to create something which should never sound hackneyed or unmotivated, to strive constantly after a completely up-to-date and individual sound.

In spite - or perhaps because - of the high demands they make on themselves, "Coqui Reca's" music never sounds artificial, out of touch. Instead it is more closely-woven and intensive than most of the music which is to be found in the "Latin-American stew-pot".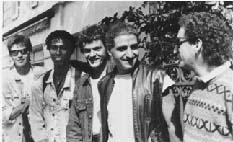 Coqui Reca - Roger Blavia, Mark Brazil, Coqui Reca,Pablo Miguez, Ney Portilho