- Catalog (in stock)
- Back-Catalog
- Mail Order
- Online Order
- about Artists
- Sounds
- Workshops
- Instruments
- Projects
- History Face
- ten years 87-97
- Review Face
- Photos - Artists
- our friends
- Albis Face
- Albis - Photos
- Albis Work
- Links

- Home

- Contact

- Profil MySpace
- Profil YouTube
- Overton Network
P & C December 1998
- Face Music / Albi
- last update 03-2016



| | |
| --- | --- |
| | - Traditional Songs of Georgia |
"
Amer-Imeri
" is a youth study group in Georgian folklore and ethnography, founded in 1991 under the auspices of the Georgian Music Society. The name "
Amer-Imeri
" means 'East and West', that is both parts of Georgia united. "
Ameri-Imeri
" differs from other Georgian youth groups in its attitude towards traditional music in so far as this study group keeps in contact with the living traditions in Georgian rural areas.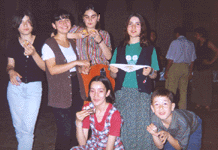 "Amer-Imeri" is the first children's choir, who learns folk songs within their traditional context, that is in connection with the respective customs, children's games, dances and ritual practices. The group also differs from the usual Georgian vocal groups as it is composed by both boys and girls.
Furthermore, "Amer-Imeri" is the first vocal group to keep strictly to the traditional rules and patterns of Georgian polyphonic singing. That means the solo singers sing the upper voices, accompanied by the choir singing the lower voices or the drone. There is no leader and nobody is pitching the first note of a song. The soloist just starts to sing in a natural way and in a pitch that suits everybody. All this makes "Amer-Imeri" different from all other Georgian children's and adult vocal groups.
To learn a polyphonic songs means for every singer of "Amer-Imeri" to know every part of the song and therefore, each song in their repertory can be sung by different soloists. This natural way of learning the rules and patterns of traditonal Georgian singing also stimulates the children's imagination and creativity to a point they start to create their own versions for each part and sometimes even add their own words.
The unique singing style of "Amer-Imeri" has been developed thanks to the group's teachers Edisher Garakanidze, Nato Zumbadze, Givi Ksovreli and Nino Bagaturia. Edisher Garakanidze (an ethnomusicologist, collector and researcher of traditional Georgian music, teacher and the leader of the male choir "Mtiebi") and Nato Zumbadze (also an ethnomusicologist, collector, researcher, teacher and soloist of the female vocal group "Mzetamze") were responsible for the musical repertory, Givi Ksovreli (member of Mtiebi) for the choreographic parts and the performing style, and the linguist Nino Bagaturia taught the children ethnography and oral traditions. In 1998 Edisher and Nino were tragically killed in a car crash, but Nato and Givi continue their work with the group.
There are actually two groups that form "Amer-Imeri": the older and the younger ones. Both have their own repertoire, but when they perform together the result is very interesting.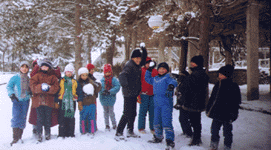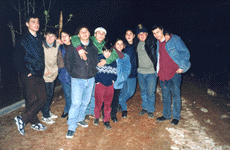 "Amer-Imeri" participated in various cultural events such as international festivals (Poland and Germany in 1994, Georgia in 1995, Latvia in 1996, the Ukraine in 1998), at conferences (on "Aspects of folk polyphony" in 1998 and on "The music in its cultural context" in 1999), at singing evenings and in TV and radio programmes. Every year, "Amer-Imeri" give concerts in Tbilisi and other parts of Georgia. In 1998, the study group staged the first children folk play.
"Amer-Imeri" keep in contact with the people living in the various parts of Georgia, staying every summer for one month in one region doing field research, in order to learn the history and geography of that part and participate in the customs, traditions and religious festivals of the villagers. On Christmas and Easter, "Amer-Imeri" visit various villages and sing for their inhabitants. They also are on friendly terms with many local children's groups, sometimes even performing together with them.